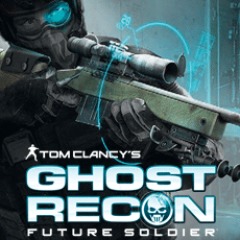 May contain in-game purchases
---

TC's Ghost Recon Future Soldier™
UBISOFT ENTERTAINMENT SA
لعبة كاملة
تم الإصدار 20 يونيو 2012
2281 تصنيف
الوصف
PS3™ Essentials - The Best of PlayStation®3



Compatible with PlayStation®3.

There is nothing fair, honorable, or just about combat. There is only winning and losing—the dead and the living. The Ghosts don't worry about even odds. They do everything in their power to overwhelm and obliterate the enemy. Future technology is the key to winning an asymmetric battle.

In Ghost Recon Future Soldier join an elite team of highly trained, cut-throat special-ops soldiers. Armed to the teeth with unrivalled combat technology and cutting-edge military hardware, Ghost Recon takes you to the globe's most deadly warzones to hunt down the highest value targets.

When you're outnumbered…Only the dead fight fair.

Single Player Campaign:
An all-new, epic Ghost Recon experience.

Co-op Campaign:
Team up with friends to take down the enemy.

Multiplayer Mode:
Up to 12 players in 6Vs6 matches for a fast-paced, intense online experience.

Gunsmith Mode:
With over 20M weapons at your disposal you'll have the perfect weapon for any combat situation.

This product supports the following languages:English, French, Italian, German, Spanish, Danish, Dutch, Norwegian, Swedish

This product is playable in 2D or 3D. To enjoy stereoscopic 3D features, you will require a 3D TV that supports stereoscopic display and compatible 3D glasses.

1-2 players
HDTV screen resolution: 720p
Network Players 2-12
Stereoscopic 3D compatible
PlayStation®Eye camera optional
PlayStation®Move motion controller and PlayStation®Eye camera optional
PlayStation®Move navigation controller or Wireless Controller optional.

تنزيل هذا المنتج عرضة لشروط خدمة PlayStation Network وشروط استخدام البرنامج الخاصة بنا بالإضافة إلى أي أحكام إضافية محددة تطبق على هذا المنتج. إذا كنت لا ترغب في قبول هذه الشروط، لا تقوم بتنزيل هذا المنتج. راجع شروط الخدمة لمزيد من المعلومات الهامة.
مبلغ يدفع مرة واحد لاستخدام التنزيلات على نظامين منشطين كحد أقصى لجهازين منزليين متوافقين.
راجع تحذيرات الاستخدام الآمن لمعلومات هامة حول الاستخدام الآمن قبل استخدام هذا المنتج.
برامج مكتبة ©Sony Computer Entertainment Inc. ملخصة بشكل حصري إلى Sony Computer Entertainment Europe. تطبق شروط استخدام البرنامج، راجع eu.playstation.com/legal لمعرفة حقوق الاستخدام الكاملة.

© 2012 Ubisoft Entertainment. All Rights Reserved. Tom Clancy's, Ghost Recon, Ghost Recon Future Soldier, the Soldier Icon, Ubisoft and the Ubisoft logo are trademarks of Ubisoft Entertainment in the U.S. and/or other countries.