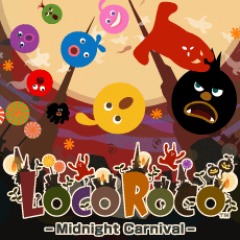 May contain in-game purchases
---

LocoRoco™ Midnight Carnival
Sony Interactive Entertainment Europe
لعبة
تم الإصدار 29 أكتوبر 2009
26 تصنيف
الوصف
Please note: This game can only be played on a PS Vita system.



If you're accessing this game on a PS4 or PS3, here's how to download it to your PS Vita:



1. Click the [Download] box, situated to the left of this product description.

2. Switch on your PS Vita system and sign-in to PSN with your PS Plus enabled account.

3. Go to [Download List] on the PS Vita system's menu, where you'll find the game ready for download.

4. Click [Download].

5. Once the game has downloaded, you'll be ready to install and play. Remember, it's yours to keep until your PlayStation Plus membership ends.


The LocoRoco are bouncing back into action and this time they're taking over an eerie fairground built by the mischievous BuiBui. Roll and jump through 16 mysterious levels as you make a midnight journey into the unknown.

Watch out for devious hazards and traps, and learn how to "boing" your way over tall walls and obstacles. Then go online via Ad Hoc Mode to play with up to three friends and compete for top scores and time rankings.

Compatible with PSP™ (PlayStation®Portable) only.

Bounce over to eu.playstation.com to find out more about LocoRoco™ Midnight Carnival on PSP™, its prequels LocoRoco™ and LocoRoco™ 2 and the exciting world of PlayStation®Network.

Compatibility Notices: 1-4 Players; Memory Stick Duo™ Compatible: 224KB minimum space required; Wireless Compatible (Ad Hoc Mode): 2-4 Players

تنزيل هذا المنتج عرضة لشروط خدمة PlayStation Network وشروط استخدام البرنامج الخاصة بنا بالإضافة إلى أي أحكام إضافية محددة تطبق على هذا المنتج. إذا كنت لا ترغب في قبول هذه الشروط، لا تقوم بتنزيل هذا المنتج. راجع شروط الخدمة لمزيد من المعلومات الهامة.
مبلغ يدفع مرة واحد لاستخدام التنزيلات على 3 أنظمة منشطة كحد أقصى لأجهزة محمولة.
راجع تحذيرات الاستخدام الآمن لمعلومات هامة حول الاستخدام الآمن قبل استخدام هذا المنتج.
برامج مكتبة ©Sony Interactive Entertainment Inc. ملخصة بشكل حصري إلى Sony Interactive Entertainment Europe. تطبق شروط استخدام البرنامج، راجع eu.playstation.com/legal لمعرفة حقوق الاستخدام الكاملة.

LocoRoco™-Midnight Carnival- ©2009 Sony Computer Entertainment Inc. Published by Sony Computer Entertainment Europe.
Developed by Sony Computer Entertainment Inc. "LocoRoco" is a trademark of Sony Computer Entertainment Inc.