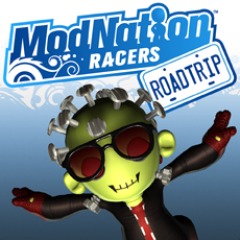 May contain in-game purchases
---

ModNation™ Racers: Road Trip
Sony Interactive Entertainment Europe
لعبة
تم الإصدار 22 فبراير 2012
2595 تصنيف
الوصف
لن يكون من الممكن استخدام ميزات الألعاب التالية عبر الإنترنت بدءًا من أول يوليو 2017: ModNation™ Racers: Road Trip

Compatible with PlayStation®Vita only.

Slip your creative engine into top gear and feel the fun of the new kart racing season at your fingertips.

Use cutting edge touchscreen technology to build racetracks, create Mods and design karts however you want in fast and fun ways. Download even more designs generated by racers on PS Vita and PlayStation®3 via the in-game Share Station, and you'll never drive the same track twice.

With incredible GPS features you can earn rewards by visiting real destinations, send pictures to friends via Facebook and Twitter, and take on the best racers in your neighbourhood with location-based leaderboards.

Gameplay requires PlayStation®Vita memory card (sold separately).

Visit eu.playstation.com to find out more about the ModNation™ Racers series and the exciting world of PlayStation®Network. You can read this title's instruction manual via its LiveArea™ – just select the question mark icon

Compatibility Notices: 1 Player/Ad-Hoc Mode 2-4 Players, 1056KB Minimum, Touchscreen/Rear Touch Pad, Location Data Acquisition Service, Front & Rear Camera, Dual Analog Sticks

تنزيل هذا المنتج عرضة لشروط خدمة PlayStation Network وشروط استخدام البرنامج الخاصة بنا بالإضافة إلى أي أحكام إضافية محددة تطبق على هذا المنتج. إذا كنت لا ترغب في قبول هذه الشروط، لا تقوم بتنزيل هذا المنتج. راجع شروط الخدمة لمزيد من المعلومات الهامة.
مبلغ يدفع مرة واحد لاستخدام التنزيلات على 3 أنظمة منشطة كحد أقصى لأجهزة محمولة.
راجع تحذيرات الاستخدام الآمن لمعلومات هامة حول الاستخدام الآمن قبل استخدام هذا المنتج.
برامج مكتبة ©Sony Interactive Entertainment Inc. ملخصة بشكل حصري إلى Sony Interactive Entertainment Europe. تطبق شروط استخدام البرنامج، راجع eu.playstation.com/legal لمعرفة حقوق الاستخدام الكاملة.

ModNation™ Racers: Road Trip ©2012 Sony Computer Entertainment America LLC. Published by Sony Computer Entertainment Europe. Developed by San Diego Studios. "ModNation Racers" and "ModNation" are trademarks or registered trademarks of Sony Computer Entertainment Europe. All rights reserved.