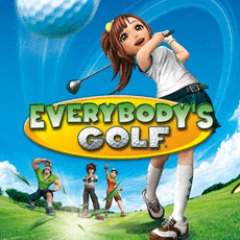 May contain in-game purchases
---

Everybody's Golf®
Sony Interactive Entertainment Europe
لعبة
تم الإصدار 22 فبراير 2012
2412 تصنيف
الوصف
نشكرك على لعب Everybody's Golf®

اعتبارًا من 21 ديسمبر عام 2017، لن تعُد قادرًا على استخدام ميزات اللعب عبر الإنترنت.

لن تكون التذكرة الموسمية للعبةEverybody's Golf® متاحة للشراء من متجر PlayStation™ بعد الآن – وسيظل الوصول لأي محتوى إضافي آخر متاحًا.

لا يزال وضعيّ اللاعب الفردي غير المتصل بالإنترنت واللعب متعدد اللاعبين غير المتصل بالإنترنت متاحين للعب.

Compatible with PlayStation®Vita only.

Get ready to return to the fairway as everybody's favourite golf series swings onto PlayStation®Vita.

Thanks to the PlayStation®Vita system's OLED screen, the colourful characters, items and courses you'd expect from Everybody's Golf® have never looked so good, and as usual there are loads of them to unlock. Use the motion sensor to look around each course, admire the scenery, spot bunkers or plot your route to the pin; you can even add an Augmented Reality visual twist to each hole using the rear camera.

There are new shot systems to master and handy touchscreen controls, all designed to make this the most interactive, fun to play Everybody's Golf® game yet. And just like real golf, with these techniques, the more you practise the better you'll get.

Looking for new opponents to test your skills against? Then challenge up to seven players via Ad Hoc Mode or venture online for some truly epic multiplayer golf, enhanced with user-friendly LiveArea™ social features. It's never been easier to meet golfers and get a round up and running!

Tee off your Everybody's Golf® career by visiting eu.playstation.com/everybodysgolfpsv for more info and tips on how to play.

• Includes this game's Network Pass, enabling access to online features.

DynaFont developed by DynaComware. This software uses fonts which were created under license from FONTWORKS INC. to fit the software design..

Compatibility Notices: 1 Player, Ad Hoc Mode 2-8 Players, 2-30 Network Players, Network Features, Minimum Space Required 4096KB, Touchscreen/Rear Touch Pad, Rear Camera, Motion Sensor

تنزيل هذا المنتج عرضة لشروط خدمة PlayStation Network وشروط استخدام البرنامج الخاصة بنا بالإضافة إلى أي أحكام إضافية محددة تطبق على هذا المنتج. إذا كنت لا ترغب في قبول هذه الشروط، لا تقوم بتنزيل هذا المنتج. راجع شروط الخدمة لمزيد من المعلومات الهامة.
مبلغ يدفع مرة واحد لاستخدام التنزيلات على 3 أنظمة منشطة كحد أقصى لأجهزة محمولة.
راجع تحذيرات الاستخدام الآمن لمعلومات هامة حول الاستخدام الآمن قبل استخدام هذا المنتج.
برامج مكتبة ©Sony Interactive Entertainment Inc. ملخصة بشكل حصري إلى Sony Interactive Entertainment Europe. تطبق شروط استخدام البرنامج، راجع eu.playstation.com/legal لمعرفة حقوق الاستخدام الكاملة.

Everybody's Golf® ©2012 Sony Computer Entertainment Inc. Published by Sony Computer Entertainment Europe. Developed by Clap Hanz Ltd. "Everybody's Golf" is a registered trademark of Sony Computer Entertainment Europe. All rights reserved.