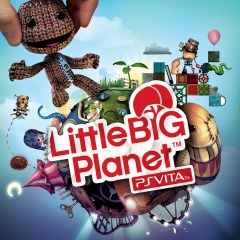 May contain in-game purchases
---

LittleBigPlanet™ PlayStation Vita
Sony Interactive Entertainment Europe
لعبة
تم الإصدار 26 سبتمبر 2012
11961 تصنيف
الوصف
Compatible with PlayStation®Vita only.
Overview
Play with everything, everywhere with LittleBigPlanet™ PS Vita
A travelling fairground planet called Carnivalia has appeared in the LittleBigPlanet™ cosmos, attracting the residents of Craftworld to its bright lights like moths to a flame. But behind the neon façade, a sinister Puppeteer pulls the strings and along with his army of minions is stealing all of the joy and laughter from LittleBigPlanet™.

To return Carnivalia to a place of fun and happiness, Sackboy must embark on a shiny new adventure to bounce, grab, swing and grapple through five amazing worlds using all the touchy-feely magic of PS Vita.

LittleBigPlanet™ PS Vita has endless ways to play, create and share any games you can imagine, wherever you may be. If you can think it, you can play it!

Features
• Use all of the PS Vita functions to guide Sackboy through five themed levels and use a whole host of gadgets.
• Visit the Arcade to play original mini-games with up to three friends.
• Create any game you can imagine and bring your world into play using the front and rear cameras.
• Upload your creations or download an endless stream of new games from the LittleBigPlanet™ community.

Important Notices
• Download the free trial or purchase the full game now.
• Gameplay requires PlayStation®Vita memory card (sold separately).
• Read this title's instruction manual via its LiveArea™ – just select the question mark icon.
• Includes a Network Pass, enabling access to online features.

1 – 4 Players, Network Players 2 – 4, Network Features, 1600MB Minimum Space Required, Touchscreen/Rear Touch Pad, Dual Analog Sticks, Front and Rear Camera, Location Data Acquisition Service (age restrictions may apply), Motion Sensor, Microphone.

تنزيل هذا المنتج عرضة لشروط خدمة PlayStation Network وشروط استخدام البرنامج الخاصة بنا بالإضافة إلى أي أحكام إضافية محددة تطبق على هذا المنتج. إذا كنت لا ترغب في قبول هذه الشروط، لا تقوم بتنزيل هذا المنتج. راجع شروط الخدمة لمزيد من المعلومات الهامة.
مبلغ يدفع مرة واحد لاستخدام التنزيلات على 3 أنظمة منشطة كحد أقصى لأجهزة محمولة.
راجع تحذيرات الاستخدام الآمن لمعلومات هامة حول الاستخدام الآمن قبل استخدام هذا المنتج.
برامج مكتبة ©Sony Interactive Entertainment Inc. ملخصة بشكل حصري إلى Sony Interactive Entertainment Europe. تطبق شروط استخدام البرنامج، راجع eu.playstation.com/legal لمعرفة حقوق الاستخدام الكاملة.

LittleBigPlanet™ PlayStation®Vita ©2012 Sony Computer Entertainment Europe. Published by Sony Computer Entertainment Europe. Developed by Tarsier Studios and Double Eleven Limited. "LittleBigPlanet", "LittleBigPlanet logo", "Sackboy" and "Sackgirl" are trademarks or registered trademarks of Sony Computer Entertainment Europe. All rights reserved.