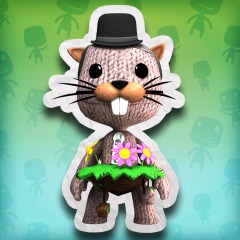 Gratis
PlayStation Plus
Online med flere spillere
Spil hver måned
Særlige rabatter
EA Access
Spil fra The Vault!
10 % rabat!
Spil først-prøveversioner!
---
LittleBigPlanet™ Groundhog Day Costume
Sony Interactive Entertainment Europe
Tilføjelse
Beskrivelse
The best thing about Sackboy™ is that you can make him look and act exactly how you want. Download this additional costume to really stand out from the crowd!

NOTE: to download this costume, you must already own LittleBigPlanet™.

Denne add-on er til LittleBigPlanet™.

Køb denne add-on til LittleBigPlanet™, så får du LittleBigPlanet™ Karting, LittleBigPlanet™ PlayStation®Vita og LittleBigPlanet™ 3 (PS4™ og PS3™) uden ekstra omkostninger.

Efter købet kan du finde din add-on i PlayStation®Stores "Downloadliste", klar til at blive downloadet.

Full Game Support:
1-4 Players; 4MB minimum save size; HDTV screen resolution: 720p; Network Players 2-4; Network Features

Download af dette produkt er underlagt Sony Entertainment Network Ydelsesbetingelser/Brugeraftale og eventuelle specifikke tillægsbetingelser, der gælder for dette produkt. Hvis du ikke kan acceptere disse betingelser, skal du undlade at downloade produktet. Se Ydelsesbetingelser for at se flere vigtige oplysninger.
Library-programmer ©Sony Computer Entertainment Inc. Licenseret eksklusivt til Sony Computer Entertainment Europe. Brugsbetingelser for software er gældende, læs de komplette brugsrettigheder på eu.playstation.com/legal.

LittleBigPlanet ©2008 Sony Computer Entertainment Europe. Published by Sony Computer Entertainment Europe. Developed by Media Molecule. LittleBigPlanet is a trademark of Sony Computer Entertainment Europe. All rights reserved.