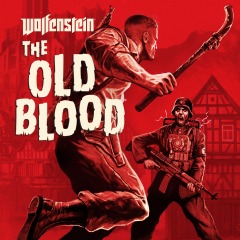 19,99 €
PlayStation Plus
Multijugador online
Juegos mensuales
Descuentos exclusivos
EA Access
¡Juegos de The Vault!
¡Con descuentos del 10 %!
¡Disfruta de las Pruebas de Juego Anticipadas!
---
Wolfenstein: The Old Blood
Descripción
Wolfenstein: The Old Blood es una precuela independiente del aclamado shooter de acción en primera persona Wolfenstein: The New Order. La aventura, que abarca ocho capítulos y dos historias interconectadas, contiene los sellos de MachineGames: acción apasionante, una historia cautivadora e intensos combates en primera persona. Métete en la piel del héroe de guerra B.J. Blazkowicz y consigue nuevo armamento, como el fusil de cerrojo y el lanzagranadas Kampfpistole. Lucha por frenar el avance de la maquinaria de guerra nazi y aprovecha los tubos a dos manos, que pueden utilizarse para escalar o para realizar despiadados y novedosos derribos de adversarios nazis.

1 jugador
Función de vibración DUALSHOCK®4
Compatible con juego a distancia
Salida de vídeo HD 720p,1080i,1080p

La descarga de este producto está sujeta a la aceptación de los Términos de servicio de PlayStation Network y de nuestros Términos de uso del Software, así como de cualquier condición adicional que se aplique a este producto. Si no desea aceptar estos términos, no descargue este producto. Consulte los Términos de servicio para obtener información adicional importante.
Cuota de licencia única para descargar en múltiples sistemas PlayStation®4. No hace falta iniciar sesión en PlayStation®Network para usarla en su PS4 principal pero sí hay que hacerlo para el uso en otros sistemas PlayStation®4.
Lea los Avisos de salud para obtener información de salud importante antes de usar este producto.
Programas de biblioteca ©Sony Computer Entertainment Inc. propiedad exclusiva de Sony Computer Entertainment Europe. Son aplicables los Términos de uso del Software. Consulta eu.playstation.com/legal para ver todos los derechos de uso

Wolfenstein®: The Old Blood™ ©2015 ZeniMax Media Inc. Developed in association with MachineGames. MachineGames, Bethesda, Bethesda Softworks, ZeniMax and related logos are registered trademarks or trademarks of ZeniMax Media Inc. in the U.S. and/ or other countries. Wolfenstein and related logos are registered trademarks or trademarks of id Software LLC in the U.S. and/or other countries. All Rights Reserved. Wolfenstein®: The Old Blood™ is a fictional story set in an alternate universe in 1946. Names, characters, organizations, locations and events are either imaginary or depicted in a fictionalized manner. The story and contents of this game are not intended to and should not be construed in any way to condone, glorify or endorse the beliefs, ideologies, events, actions, persons or behavior of the Nazi regime or to trivialize its war crimes, genocide and other crimes against humanity.