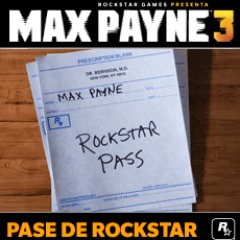 14,99 €
PlayStation Plus
Multijugador online
Juegos mensuales
Descuentos exclusivos
EA Access
¡Juegos de The Vault!
¡Con descuentos del 10 %!
¡Disfruta de las Pruebas de Juego Anticipadas!
---
Pase de Rockstar Max Payne 3
Rockstar Games
Complemento
Descripción
Ahorra dinero en contenido para este juego adquiriendo el pase de temporada. El contenido puede descargarse de PlayStation®Store o desde el propio juego, una vez se publique.

Compra el pase de Rockstar para Max Payne 3 y accede a todos los packs de contenido adicional de Max Payne 3 a precio reducido. El pase de Rockstar te dará acceso a contenido completamente nuevo de multijugador como, por ejemplo, mapas, modos, potenciadores, objetos, personajes jugables, desafíos y mucho más, todo desde la interfaz del juego.

Nota: es necesario Max Payne 3 para jugar. Este contenido descargable solo es compatible con los discos europeos de Max Payne 3 (BLES 00942 and BLES 01656).

1 jugador
111KB mínimo
PAL HD 720p
DUALSHOCK®3
Funciones de red
2-16 jugadores en red

La descarga de este producto está sujeta a la aceptación de los Términos de servicio y Acuerdo de usuario de Sony Entertainment Network, así como de cualquier condición adicional que se aplique a este contenido. Si no deseas aceptar estos términos, no descargues este producto. Consulta los Términos de servicio para obtener información adicional importante.
Cuota única para usar las descargas en un máximo de 2 sistemas de entretenimiento doméstico compatibles y activados.
Lea los Avisos de salud para obtener información de salud importante antes de usar este producto.
Programas de biblioteca ©Sony Computer Entertainment Inc. propiedad exclusiva de Sony Computer Entertainment Europe. Son aplicables los Términos de uso del Software. Consulta eu.playstation.com/legal para ver todos los derechos de uso

©2004 - 2012 Rockstar Games. Rockstar Games, Rockstar Studios, Max Payne, Rockstar marks & logos are worldwide trademarks of Take-Two Interactive Software. Other marks are properties of their owners. All Rights Reserved.

Software subject to license in manual & online at rockstargames.com/eula. Non-transferable access to special features such as exclusive, unlockable, downloadable or online content, services, or functions may require single-use serial code, additional fee and/or online account (13+). Special features may require internet connection, may not be available to all users, and may, upon 30 days notice, be terminated, modified, or offered under different terms.

This game is fictional doesn't depict any actual event/person/entity any similarities are coincidental. Take Two doesn't endorse engaging in any conduct in the game. Unauthorized copying, reverse engineering, transmission, performance, rental, pay for play, or copy protection circumvention is prohibited.