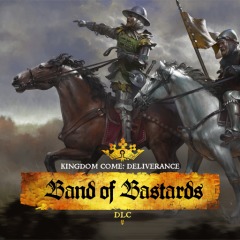 7,99 €
PlayStation Plus
Multijugador online
Juegos mensuales
Descuentos exclusivos
EA Access
¡Juegos de The Vault!
¡Con descuentos del 10 %!
¡Disfruta de las Pruebas de Juego Anticipadas!
---
Kingdom Come: Deliverance - Band of Bastards
Deep Silver
Nivel
Lanzado 5 Feb 2019
Descripción
El tercer DLC de Kingdom Come: Deliverance se centra en el combate y escaramuzas pequeñas. Los antiguos enemigos de Sir Radzig están saqueando sus propiedades, por lo que ha pedido ayuda a un viejo conocido: Kuno de Rychwald, líder de una infame banda de mercenarios. Naturalmente necesitan un guía, y no hay nadie mejor para este trabajo que Henry.


1 jugador
Salida de vídeo HD 720p,1080i,1080p

La descarga de este producto está sujeta a la aceptación de los Términos de servicio de PlayStation Network y de nuestros Términos de uso del Software, así como de cualquier condición adicional que se aplique a este producto. Si no desea aceptar estos términos, no descargue este producto. Consulte los Términos de servicio para obtener información adicional importante.
Cuota de licencia única para descargar en múltiples sistemas PlayStation®4. No hace falta iniciar sesión en PlayStation®Network para usarla en su PS4 principal pero sí hay que hacerlo para el uso en otros sistemas PlayStation®4.
Lea los Avisos de salud para obtener información de salud importante antes de usar este producto.
Programas de biblioteca ©Sony Interactive Entertainment Inc. propiedad exclusiva de Sony Interactive Entertainment Europe. Son aplicables los Términos de uso del Software. Consulta eu.playstation.com/legal para ver todos los derechos de uso.

Published 2018 by Koch Media GmbH, Austria. Deep Silver is a division of Koch Media. Deep Silver and their respective logos are trademarks of Koch Media GmbH. ©2018 and developed by Warhorse Studios s.r.o. Portions of this software are included under license © 2004-2018 Crytek GmbH. All rights reserved. Crytek, CryEngine and their respective logos are trademarks of Crytek GmbH. All other trademarks, logos and copyrights are property of their respective owners. All rights reserved.