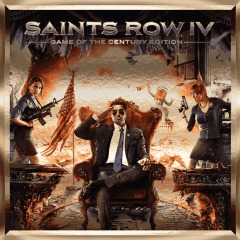 19,99 €
PlayStation Plus
Multijugador online
Juegos mensuales
Descuentos exclusivos
EA Access
¡Juegos de The Vault!
¡Con descuentos del 10 %!
¡Disfruta de las Pruebas de Juego Anticipadas!
---
Saints Row IV Game of the Century Edition
Deep Silver
Paquete
Lanzado 22 Oct 2014
Descripción
¡El épico final del juego que rompió todas las reglas! Los Saints han pasado de la casa de crack a la casa blanca, pero la Tierra ha sido invadida y tu misión es salvarla de Zinyak y su imperio alienígena. Con nuevos y viejos amigos, superpoderes y armas de locura, deberás salvar el planeta en el juego de mundo abierto más salvaje de la historia. ¡Además, esta edición incluye todos los DLC!


Compras dentro del juego opcionales

PlayStation®3

La descarga de este producto está sujeta a la aceptación de los Términos de servicio de PlayStation Network y de nuestros Términos de uso del Software, así como de cualquier condición adicional que se aplique a este producto. Si no desea aceptar estos términos, no descargue este producto. Consulte los Términos de servicio para obtener información adicional importante.
Cuota única para usar las descargas en un máximo de 2 sistemas de entretenimiento doméstico compatibles y activados.
Lea los Avisos de salud para obtener información de salud importante antes de usar este producto.
Programas de biblioteca ©Sony Computer Entertainment Inc. propiedad exclusiva de Sony Computer Entertainment Europe. Son aplicables los Términos de uso del Software. Consulta eu.playstation.com/legal para ver todos los derechos de uso

© 2013 and published by Koch Media GmbH, Gewerbegebiet 1, 6604 Höfen, Austria. Deep Silver is a division of Koch Media
GmbH. Developed by Deep Silver Volition, LLC. Deep Silver,Saints Row IV™, Deep Silver Volition, LLC. and their respective logo are trademarks of Koch Media GmbH. All other trademarks, logos and copyrights are property of their respective owners. All rights reserved. Uses Bink Video. Copyright © 1997-2013 by RAD Game Tools, Inc. DTS, the Symbol, and DTS and the Symbol together are registered trademarks of DTS, Inc. and all other DTS logos are trademarks of DTS, Inc. Portions of this software utilize SpeedTree®RT Technology (© 2004-2013 Interactive Data Visualization, Inc.). SpeedTree® is a registered trademark of IDV, Inc. All rights reserved. Wwise © 2006-2013 Audiokinetic Inc. All rights reserved. This product includes software developed by the Open SSL Project for use in the OpenSSL Toolkit (http://www.openssl.org/).