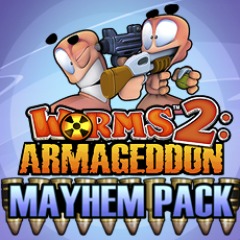 Gratis
PlayStation Plus
Multijugador online
Juegos mensuales
Descuentos exclusivos
EA Access
¡Juegos de The Vault!
¡Con descuentos del 10 %!
¡Disfruta de las Pruebas de Juego Anticipadas!
---
Worms 2: Armageddon Mayhem Pack
Team 17 Digital LTD
Complemento
Lanzado 18 Ene 2012
Descripción
El "paquete Mayhem" de Worms™ 2: Armageddon es un paquete gratuito de contenido descargable creado para celebrar el lanzamiento de Worms™ Ultimate Mayhem. Este paquete incluye tres ambientaciones nuevas, tres sombreros nuevos, tres bancos de diálogos y tres lápidas nuevas procedentes de dicho juego.

- 3 ambientaciones nuevas.
- 3 sombreros.
- 3 bancos de diálogos.
- 3 lápidas.

1-4 jugadores
PAL HD 720p, 1080i, 1080p
DUALSHOCK®3
Funciones de red
2-4 jugadores en red

La descarga está sujeta a los Términos de servicio/Acuerdo de usuario de PlayStation®Network y cualquier condición adicional específica que afecte a este producto. Si no deseas aceptar estos términos, no descargues este artículo. Lee los Términos de servicio para más información importante.

Worms 2: Armageddon Developed by Team17 Software Ltd © 2010. Team17 Software and Worms 2: Armageddon are trademarks or registered trademarks of Team17 Software Limited. Original Concept by Andy Davidson. All other trademarks, copyrights and logos are property of their respective owners. Developed and published by Team17 Software Limited.