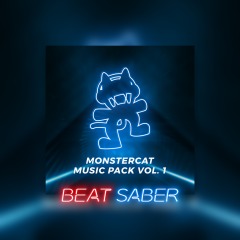 12,99 €
PlayStation Plus
Multijugador online
Juegos mensuales
Descuentos exclusivos
---
Monstercat Music Pack Vol. 1
Compl. para PS VR
Lanzado 14 Mar 2019
Descripción
El uso de PlayStation®VR no es apto para niños menores de 12 años.

Se requiere PlayStation®VR y PlayStation®Camera.
¡Ábrete camino cortando al palpitante ritmo de la música que nuestros amigos de Monstercat han elegido en exclusiva para ti! ¡Nada mejor que una buena dosis de música de baile electrónica para Beat Saber!

Monstercat Music Pack Vol. 1 contiene los temas:

- 'Boundless' - Aero Chord
- 'Emoji VIP' - Pegboard Nerds
- 'Epic' - Tokyo Machine
- 'Feeling Stronger (feat. Charlotte Colley) [High Maintenance Remix]' - Muzzy
- 'Overkill' - RIOT
- 'Rattlesnake' - Rogue
- 'Stronger (feat. Emel)' - Stonebank
- 'This Time' - Kayzo
- 'Till It's Over' - Tristam
- 'We Won't Be Alone (feat. Laura Brehm)' - Feint

Compras dentro del juego opcionales

Salida de vídeo HD 720p,1080p
Requiere mando de movimiento PlayStation®Move y PlayStation®Camera.
Se necesita PlayStation®VR y PlayStation®Camera para jugar a este producto.

La descarga de este producto está sujeta a la aceptación de los Términos de servicio de PlayStation Network y de nuestros Términos de uso del Software, así como de cualquier condición adicional que se aplique a este producto. Si no desea aceptar estos términos, no descargue este producto. Consulte los Términos de servicio para obtener información adicional importante.
Cuota de licencia única para descargar en múltiples sistemas PlayStation®4. No hace falta iniciar sesión en PlayStation®Network para usarla en su PS4 principal pero sí hay que hacerlo para el uso en otros sistemas PlayStation®4.
Lea los Avisos de salud para obtener información de salud importante antes de usar este producto.
Programas de biblioteca ©Sony Interactive Entertainment Inc. propiedad exclusiva de Sony Interactive Entertainment Europe. Son aplicables los Términos de uso del Software. Consulta eu.playstation.com/legal para ver todos los derechos de uso.

© 2018 Beat Games
Beat Saber, Beat Games and their respective logos are registered trademarks or trademarks of Beat Games in the United States of America and elsewhere. All Rights Reserved. All other trademarks and trade names are the properties of their respective owners. Designs and specifications are subject to change without notice.