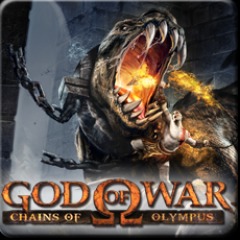 7,99 €
PlayStation Plus
Multijugador online
Juegos mensuales
Descuentos exclusivos
c.kaonashi.tooltip.header{}
c.kaonashi.free{}
c.kaonashi.discounts{}
c.kaonashi.pft{}
---
God of War®: Chains of Olympus [PSP]
Sony Interactive Entertainment Europe
Juego
Lanzado 1 Oct 2009
Descripción
Al comienzo, solo había oscuridad...

La oscuridad cubre la tierra. Helios, dios del sol, está preso en el inframundo y reina el caos. Solo Kratos, el guerrero maldito y esclavo de los dioes del Olimpo, puede restaurar la luz y escapar de los terribles pecados de su pasado.

Descarga God of War®: Chains of Olympus y disfruta de un nuevo capítulo de la historia épica de Kratos, el fantasma de Esparta. Desde las puertas del Hades hasta las profundidades del Tártaro, explora antiguos reinos, resuelve enigmáticos puzzles y utiliza nuevos y brutales ataques para acabar con bestias de pesadilla como el minotauro, los cíclopes y el basilisco.

Compatible con PSP® (PlayStation®Portable), PlayStation®Vita y PlayStation®TV.

NOTA: esta información era correcta en el momento de su publicación. Es posible que algunas funciones varíen respecto a la versión original de este producto para PSP™ o que no estén disponibles.

Desarrollado por Ready at Dawn Studios

Compatibilidad del juego completo:
1 jugador, compatible con Memory Stick Duo: 420KB mínimo.

La descarga de este producto está sujeta a la aceptación de los Términos de servicio de PlayStation Network y de nuestros Términos de uso del Software, así como de cualquier condición adicional que se aplique a este producto. Si no desea aceptar estos términos, no descargue este producto. Consulte los Términos de servicio para obtener información adicional importante.
Cuota única para usar las descargas en un máximo de 3 sistemas portátiles compatibles.
Lea los Avisos de salud para obtener información de salud importante antes de usar este producto.
Programas de biblioteca ©Sony Interactive Entertainment Inc. propiedad exclusiva de Sony Interactive Entertainment Europe. Son aplicables los Términos de uso del Software. Consulta eu.playstation.com/legal para ver todos los derechos de uso.

God of War™: Chains of Olympus ©2005-2007 Sony Computer Entertainment America Inc. Published by Sony Computer Entertainment Europe. Developed by Ready At Dawn Studios. God of War is a trademark of Sony Computer Entertainment Europe. All rights reserved.