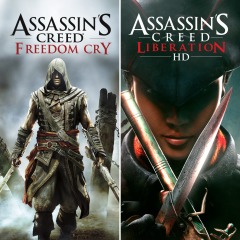 US$24.99
PlayStation Plus
¡Juegos gratis!
¡Grandes descuentos!
¡Espectaculares elementos exclusivos!
EA Access
¡Juegos de The Vault!
¡Descuentos del 10%!
¡Pruebas de Juega Primero!
---
Assassin's Creed® Liberation HD and Freedom Cry Bundle
Ubisoft Entertainment
Paquete
Descripción
Recibe Assassin's Creed Liberation HD y Assassin's Creed Grito de libertad al comprar este paquete exclusivo para descarga digital en el sistema de entretenimiento informático PlayStation®3.

Assassin's Creed® Liberation HD

En 1765, las semillas de la Revolución Americana se están sembrando en Boston y Nueva York y, en el Sur, las fuerzas Españolas traman tomar el control de Luisiana para los Templarios. Mientras estos se apoderan en secreto de la trata de esclavos en Nuevo Orleans, Aveline de Grandpré, una asesina de origen francés y africano, está lista para defender a su gente.

Assassin's Creed® Grito de libertad

Rebélate contra la esclavitud con Assassin's Creed® Grito de libertad. Nacido como esclavo, Adewalé encontró la libertad como pirata. Ahora, Adewalé se ha convertido en un adiestrado Asesino. Forçado a encarar o passado, Adéwalé decide libertar os escravos e matar seus captores.

1 Player

Logiciel soumis à licence (us.playstation.com/softwarelicense).  Activité en ligne soumise aux conditions générales de services et au contrat d'utilisateur ( www.sonyenteretainmentnetwork.com/terms-of-service). Tarifa única para jugar hasta en dos sistemas PlayStation® 3 activados por esta cuenta.

© 2007-2014 Ubisoft Entertainment. All Rights Reserved. Assassin's Creed®, Ubisoft, and the Ubisoft logo are trademarks of Ubisoft Entertainment in the US and/or other countries.