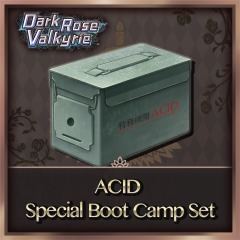 Gratuito
PlayStation Plus
¡Juegos gratis!
¡Grandes descuentos!
¡Espectaculares elementos exclusivos!
EA Play
¡Juegos de The Vault!
¡Descuentos del 10%!
¡Prueba de acceso anticipado!
---
ACID Special Boot Camp Set
Idea Factory International
Complemento
Descripción
[1000] Marks, [10] Medals y [50] PP serán añadidas.

Se añadirán los siguientes elementos:
・Energy Pill SP x 3
・Energy Pack SP x 3
・Deepas Medicine SP x 3
・Deepas Pack SP x 3
・Remedine Pack EX x 3
・Activator x 3
・Hard Upper x 3
・Act Upper x 3
・Power Upper x 3
・Aim Upper x 3
・Stamina Upper x 3
・Memory Upper x 3
・Speed Upper x 3
・Technical Upper x 3
・Portable Camoflauge Device x 3

Uso a distancia requiere el sistema PS Vita y una conexión Wi-Fi que sea lo suficientemente estable.


1 jugador
8GB como mínimo
DUALSHOCK®4
Uso a distancia

El software está sujeto a licencia y garantía limitada (us.playstation.com/softwarelicense/sp). Las funciones en línea requieren una cuenta y están sujetas a los términos de servicio y a la correspondiente política de privacidad (visita playstationnetwork.com para consultar los términos de servicio y las correspondientes políticas de privacidad de tu país).

©KOSUKE FUJISHIMA ©2017 IDEA FACTORY / COMPILE HEART All rights reserved. Dark Rose Valkyrie is a trademark of IDEA FACTORY. Licensed to and published by Idea Factory International, Inc.