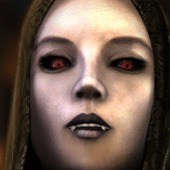 US$0.49
PlayStation Plus
¡Juegos gratis!
¡Grandes descuentos!
¡Espectaculares elementos exclusivos!
EA Play
¡Juegos de The Vault!
¡Descuentos del 10%!
¡Prueba de acceso anticipado!
---
Avatar Carmilla de Castlevania: Lords of Shadow
Konami Digital Entertainment, Inc.
Avatar
Descripción
Descargue este avatar Carmilla de Castlevania: Lords of Shadow para agergarlo a la ID en línea de su PlayStation®Network.

Para usar este avatar descargado:
1) Seleccione el ícono "PlayStation®Network" en el menú de PlayStation®3 XMB™ y luego escoja "Account Management".
2) Seleccione "Account Information" y luego "Avatar".
3) Seleccione "Premium Avatar" para poder obtener acceso al listado de avatares descargados.
4) Finalmente, desplácese al avatar que desee usar y selecciónelo.

©2011 Konami Digital Entertainment KONAMI es la marca comercial registrada de KONAMI CORPORATION. No hay ningún derecho de autor producto/marca específico para los respectivos productos.

La compra o el uso de este artículo están sujetos a los términos de servicio y al contrato de usuario de PlayStation®Network. Sony Computer Entertainment America Inc. le concedió la licencia de este artículo. Una única cuota de licencia para descargas en hasta 2 consolas asociadas con la cuenta de compra.