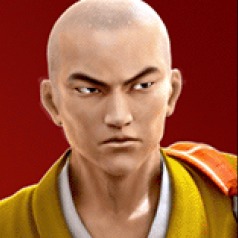 PlayStation Plus
¡Juegos gratis!
¡Grandes descuentos!
¡Espectaculares elementos exclusivos!
EA Play
¡Juegos de The Vault!
¡Descuentos del 10%!
¡Prueba de acceso anticipado!
---
Virtua Fighter 5 Final Showdown Lei-Fei Avatar
SEGA of America, Inc.
Avatar
Descripción
Este artículo está disponible como descarga gratis para los usuarios de PlayStation®Plus.
Únase a PlayStation®Plus
Descargue este avatar de Lei-Fei para agregarlo a su ID en línea de PlayStation®Network.

Para usar este avatar descargado:
1) Seleccione el ícono "PlayStation®Network" en el menú de PlayStation®3 XMB™ y luego escoja "Account Management".
2) Seleccione "Account Information" y luego elija "Avatar".
3) Seleccione "Premium Avatar" para poder obtener acceso al listado de avatares descargados.
4) Finalmente, desplácese al avatar que desee usar y selecciónelo.

©SEGA. All rights reserved. SEGA is registered in the U.S. Patent and Trademark Office. SEGA, the SEGA logo, VIRTUA FIGHTER and FINAL SHOWDOWN are either registered trademarks or trademarks of SEGA Corporation.

La compra o el uso de este artículo están sujetos a los Términos de servicio y al Acuerdo de usuario de PlayStation®Network. Sony Computer Entertainment America le concedió la licencia de este artículo.