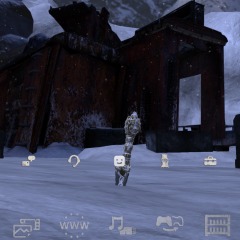 US$1.99
PlayStation Plus
¡Juegos gratis!
¡Grandes descuentos!
¡Espectaculares elementos exclusivos!
EA Access
¡Juegos de The Vault!
¡Descuentos del 10%!
¡Pruebas de Juega Primero!
---
UNCHARTED 2: Among Thieves Remastered Dynamic Theme
Sony Interactive Entertainment
Tema dinámico
Descripción
Un misterioso artefacto impulsa a Nathan Drake a embarcarse en una expedición hasta el legendario valle de Shambhala, en el Himalaya, donde se verá involucrado en un peligroso juego del gato y el ratón contra un criminal de guerra fugitivo. Después de un accidente de tren explosivo y de haber sido empujado a sus límites, Drake se ve obligado a arriesgar todo para recuperar la Daga Phurba perdida en el accidente. El corolario de ese accidente de tren se ha recreado en este tema dinámico para tu PS4.

Personaliza tu consola PS4™ con este increíble tema. Este tema te permite modificar la apariencia del fondo de tu consola y del PlayStation® Dynamic Menu. ¡Descárgalo hoy mismo!

Para aplicar el tema descargado:

1. Selecciona Configuración de la pantalla de funciones.
2. Selecciona la opción Configuración de tema para ver una lista de temas.
3. Desplázate hasta el tema que desees, y luego pulsa el botón X una vez para seleccionarlo, y una vez más para aplicarlo.

"PlayStation" es una marca comercial registrada, y "PS4" es una marca comercial de Sony Computer Entertainment Inc.

Software sujeto a licencia (us.playstation.com/softwarelicense).  La actividad en línea está sujeta a los Términos de servicio y al Acuerdo del usuario (www.playstationnetwork.com/terms-of-service). Tarifa única para jugar en el sistema PS4™ principal designado de la cuenta y en otros sistemas PS4™ al iniciar sesión con esa cuenta.

©2007-2015 Sony Computer Entertainment America LLC. UNCHARTED The Nathan Drake Collection and UNCHARTED 2 Among Thieves are trademarks of Sony Computer Entertainment America LLC.