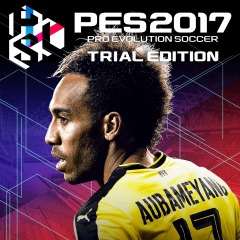 PlayStation Plus
Jeux gratuits!
Énormes rabais!
Exclusivités incroyables!
---
PES2017 Trial Edition
Konami Digital Entertainment, Inc.
Jeu PSN
Sortie Nov 28, 2016
Description
La version gratuite de [Pro Evolution Soccer 2017] est désormais disponible !
Jouez au nouveau mode en ligne [PES LEAGUE] et luttez pour le titre de ligue et tenter de gagner la coupe lors de compétitions à durée limitée uniquement, ainsi que les modes [MATCH D'EXHIBITION] et [ENTRAÎNEMENT].

*Il n'est possible de jouer aux autres modes tels que la [Ligue des Masters] qu'avec la version complète de [Pro Evolution Soccer 2017].
*Les équipes disponibles peuvent être limitées dans certains modes.
*En mode PES LEAGUE, vous pouvez jouer à un nombre de matches limité.
*Vous pouvez affronter d'autres adversaires en jouant au mode PES LEAGUE dans la version complète de [Pro Evolution Soccer 2017].
*Les données de sauvegarde ne peuvent pas être transférées depuis d'autres titres.

Pour jouer des matches en ligne, un abonnement au PlayStation®Plus est requis (frais applicables).

1-7 joueurs
2-2 joueurs en réseau

Le logiciel est assujetti à la licence et à la garantie limitée (playstation.com/en-us/legal/softwarelicense-cafr/). Les fonctions en ligne exigent un compte et sont sujettes aux conditions d'utilisation et à la politique de confidentialité applicable (playstationnetwork.com/fr-ca/legal/terms-of-service et playstationnetwork.com/fr-ca/legal/privacy-policy/).

All UEFA Champions League names, UEFA Europa League and UEFA Super Cup names, logos and trophies are the property, registered trademarks and/or copyright of UEFA. All rights reserved. adidas, the 3-Bars logo, the 3-Stripe trade mark and Climacool are registered trade marks of the adidas Group, used with permission. The use of images and names of the football players in this game is under license from FIFPro Commercial Enterprises BV. © 2016, DFB Copyright FFF © Official Licensee of the FIGC All copyrights and trademarks are KNVB respectively Team Holland property and are used under license. Licensed by OLIVEDESPORTOS (Official Agent of the FPF) Producto Oficial Licenciado RFEF © 2002 Ligue de Football Professionnel ® Officially Licensed by Eredivisie C.V. and Stichting CAO voor Contractspelers ™ © 2016 THE ARSENAL FOOTBALL CLUB PLC, ALL RIGHTS RESERVED © S.L.B. Producto Oficial. Official Licensed Product of A.C. Milan Official product manufactured and distributed by KDE under licence granted by A.S. Roma S.p.A and Soccer s.a.s. di Brand Management S.r.l. Official Videogame(s) of CORINTHIANS All other copyrights or trademarks are the property of their respective owners and are used under license.