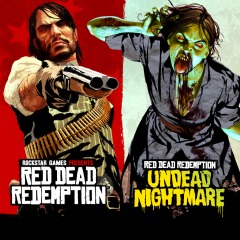 53,49 $
PlayStation Plus
Jeux gratuits!
Énormes rabais!
Exclusivités incroyables!
EA Access
Jeux de The Vault!
Rabais de 10 %!
Périodes d'essai Jouez avant tout le monde!
---
Red Dead Redemption and Undead Nightmare Collection
Description
Téléchargez et profitez de Red Dead Redemption and Undead Nightmare Collection , un bon exemple du genre Aventure.


Cet article fait l'objet d'une licence ou d'une sous-licence de Sony Computer Entertainment America, et est soumis aux conditions générales du service du réseau, au contrat d'utilisateur, aux restrictions d'utilisation de cet article et aux autres conditions applicables, disponibles sur le site www.us.playstation.com/support/useragreements. Si vous ne souhaitez pas accepter ces conditions, ne téléchargez pas ce produit.

©2006-2010 Rockstar Games. Rockstar Games,R*,Red Dead Redemption & other marks are trademarks of Take-Two Interactive Software. All Rights Reserved. This videogame is fictional doesn't depict any actual event/person/entity and any similarities are coincidental. Take Two doesn't endorse or encourage engaging in any conduct depicted in game. Unauthorized copying, reverse engineering, transmission, public performance, rental, pay for play, or circumvention of copy protection is strictly prohibited. Use of software is subject to license in the game manual & online at rockstargames.com/eula. Non-transferable access to special features such as exclusive, unlockable, downloadable or online content, services, or functions may require single-use serial code, additional fee and/or online account registration (13+). Access to special features require internet connection, may not be available to all users, and may, upon 30 days notice, be terminated, modified, or offered under different terms.