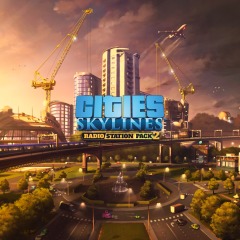 PlayStation Plus
Multigiocatore online
Giochi mensili
Sconti esclusivi
EA Access
Giochi in The Vault!
Sconti del 10%!
Versioni di prova Gioca per primo!
---
Cities: Skylines - Radio Station 2
PARADOX INTERACTIVE AB
Contenuto aggiuntivo
Descrizione
Due nuove stazioni radio in un unico pacchetto di Cities: Skylines! Non perdere Cities: Skylines - Pacchetto Stazioni radio 2 e dai più ritmo al tuo gioco. Country Road Radio ti accompagnerà nella tua casa della prateria, mentre All That Jazz e DJ Jazz Boatman ti faranno fare un tuffo nel passato.

Sella i cavalli e parti al galoppo con la nuova stazione Country Road Radio, che ti offre 16 nuove canzoni originali in quattro sottogeneri: Appalachian Folk, Bluegrass / Honky Tonk, Nashville Modern Country e Unplugged Country. Una vera Dixieland Delight per tutti gli amanti del country, con 6 brani strumentali e 10 cantati.

Con All That Jazz, Paradox vi presenta la jam più cool che si sia mai sentita in Cities: Skylines. Jazz Boatman, l'idolo del web, torna in veste di DJ per far girare i dischi e farvi girare la testa! La nuova stazione radio All That Jazz vi presenta 16 nuove canzoni di vari generi super smooth: Classic, Latin, Funky e Chill-Out Jazz.

1 giocatore
100MB minimo
PAL HD 720p,1080p

Il download del presente prodotto è soggetto ai Termini di servizio e alle Condizioni d'uso del software di PlayStation Network e a qualsiasi altra condizione supplementare specifica applicabile a questo articolo. Se non si desidera accettare questi Termini, non scaricare questo articolo. Per maggiori dettagli, consultare i Termini di Servizio.
Una tantum applicabile per scaricare su più sistemi PS4. Si può utilizzare su PS4 principale senza effettuare l'accesso a PlayStation Network; l'accesso va effettuato per l'uso su altri sistemi PS4.
Prima di usare questo prodotto, leggere attentamente le Avvertenze per la salute.
Library programs ©Sony Interactive Entertainment Inc. concesso in licenza esclusivamente a Sony Interactive Entertainment Europe. Si applicano i Termini d'uso del software. Si consiglia di visitare eu.playstation.com/legal per i diritti di utilizzo completi.

© 2015-2019 and published by Paradox Interactive AB, CITIES: SKYLINES and PARADOX INTERACTIVE are trademarks and/or registered trademarks of Paradox Interactive AB in Europe, the U.S., and other countries. PlayStation®4 Edition adapted by Tantalus Media Pty Ltd. All other trademarks, logos and copyrights are property of their respective owners.