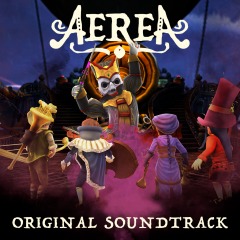 CHF 11.50
PlayStation Plus
Multigiocatore online
Giochi mensili
Sconti esclusivi
EA Access
Giochi in The Vault!
Sconti del 10%!
Versioni di prova Gioca per primo!
---
AereA - Soundtrack
Colonna sonora
Pubblicato 30 Giu 2017
Descrizione
Inclusa la colonna sonora di AereA.

1. The Journey Begins
2. Aezir Concert Hall
3. Aboard the Ship of Wind
4. A Dark Place
5. Webs and Weavers
6. Octavian Pipes
7. Scorching Desert
8. Trouble Beneath
9. Demetrio's Interlude
10. Temple of Water
11. Ruler of the Skies
12. Welcome to the Jungle
13. Concord of the Snake
14. Liethel Concert Hall
15. Nightmare Circus
16. Burning Cave
17. Double Trouble
18. Spiral Concert Hall
19. Eleanor's Theme
20. Cold as Ice
21. Drums in the Deep
22. The Grande Finale
23. Lurking Evil (Bonus Track)
24. The Curtain Falls (Bonus Track)

Questo prodotto è disponibile nelle seguenti lingue: Inglese

1 giocatore
200MB minimo
PAL HD 720p,1080i,1080p

Il download del presente prodotto è soggetto ai Termini di servizio e alle Condizioni d'uso del software di PlayStation Network e a qualsiasi altra condizione supplementare specifica applicabile a questo articolo. Se non si desidera accettare questi Termini, non scaricare questo articolo. Per maggiori dettagli, consultare i Termini di Servizio.
Una tantum applicabile per scaricare su più sistemi PS4. Si può utilizzare su PS4 pincipale senza effettuare l'accesso a PlayStation Network; l'accesso va effettuato per l'uso su altri sistemi PS4.
Prima di usare questo prodotto, leggere attentamente le Avvertenze per la salute.
Library programs ©Sony Interactive Entertainment Inc. concesso in licenza esclusivamente a Sony Interactive Entertainment Europe. Si applicano i Termini d'uso del software. Si consiglia di visitare eu.playstation.com/legal per i diritti di utilizzo completi.

AereA™ is a trademark of SOEDESCO®. Published by SOEDESCO, Koddeweg 13, 3194 DH, Hoogvliet. All rights reserved.