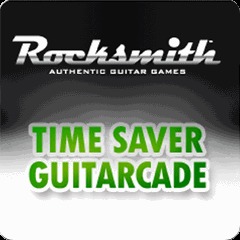 €2,99
PlayStation Plus
Multigiocatore online
Giochi mensili
Sconti esclusivi
EA Access
Giochi in The Vault!
Sconti del 10%!
Versioni di prova Gioca per primo!
---
Rocksmith™ - Time Saver Guitarcade
UBISOFT ENTERTAINMENT SA
Livello
Descrizione
Questo pacchetto salva-tempo dà accesso a tutti i mini-giochi Guitarcade.

1-2 giocatori
PAL HD 720p

Il download del presente prodotto è soggetto ai Termini di servizio e Condizioni d'uso di Sony Entertainment Network e a qualsiasi altra condizione supplementare specifica applicabile a questo articolo. Se non si desidera accettare questi Termini, non scaricare questo articolo. Per maggiori dettagli, consultare i Termini di Servizio. Una tantum applicabile per l'utilizzo di contenuti scaricati su un massimo di 2 console domestiche* attivate e compatibili e 2 console portatili* attivate e compatibili.
* Per informazioni, leggi i Termini di Servizio.

© 2012 Ubisoft Entertainment. All Rights Reserved. Rocksmith logo, Ubisoft, and the Ubisoft logo are trademarks of Ubisoft Entertainment in the US and/or other countries.