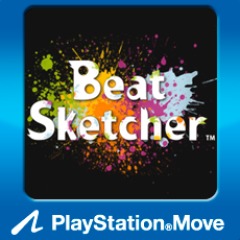 42,00 zl
PlayStation Plus
Gry online dla wielu graczy
Gry co miesiąc
Wyjątkowe zniżki
EA Play
Gry ze zbioru Vault!
Rabaty 10%!
Zagraj w wersje próbne!
---
Beat Sketcher™ - Unlock Key
Sony Interactive Entertainment Europe
Gra z PSN
Opis
To use this download, you will need a PlayStation®Move motion controller and a PlayStation®Eye camera.

Download Beat Sketcher™ and prepare to turn your TV into a living work of art. Use a wide range of tools to transform your PlayStation®Move motion controller into a paintbrush, a pencil or even a spray can – and start getting creative.

Draw absolutely anything you like in Free Mode and take photos with the PlayStation®Eye camera to create doodles on top of your favourite pictures. Challenge a friend to fun-packed competitions: who can draw the chosen image first and who can turn a simple shape into something totally different? You can even team up and take turns to paint a colourful masterpiece together.

But Beat Sketcher™ doesn't stop there. With every new stroke of the motion controller, you can compose background music that will evolve at the same pace as your drawing. Experiment with different sounds and beats until you've made an amazing piece of interactive art, then share your best creations online with friends.

Visit eu.playstation.com to find out more about Beat Sketcher™ and the latest PlayStation®Move releases.

Compatibility Notices: 1-4 Players; 500MB minimum space required; HDTV screen resolution: 720p, 1080i, 1080p; Network Features

Pobieranie tego produktu podlega Warunkom świadczenia usługi/umowie użytkownika Sony Entertainment Network oraz wszelkim innym konkretnym warunkom dodatkowym powiązanym z tym produktem. Jeśli nie akceptujesz tych warunków, nie pobieraj tego produktu Inne ważne informacje można znaleźć w Warunkach świadczenia usługi. Jednorazowa oplata za korzystanie z plików do pobrania na maksymalnie dwóch aktywnych i kompatybilnych domowych konsolach* oraz dwóch aktywnych i kompatybilnych konsolach przenosnych*.* Aby dowiedziec sie wiecej, przeczytaj Warunki swiadczenia uslugi.

Beat Sketcher™ ©2010 Sony Computer Entertainment Inc. Published by Sony Computer Entertainment Europe. Developed by SCE Japan Studio. "Beat Sketcher" is a trademark or a registered trademark of Sony Computer Entertainment Europe. All rights reserved.