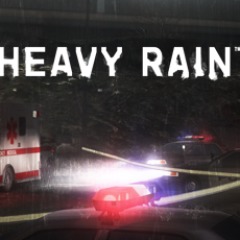 Bezpłatne
PlayStation Plus
Gry online dla wielu graczy
Gry co miesiąc
Wyjątkowe zniżki
EA Access
Gry ze zbioru Vault!
Rabaty 10%!
Zagraj w wersje próbne!
---
Heavy Rain™ Demo
Sony Interactive Entertainment Europe
Demo
Opis
Prepare to become absorbed by Heavy Rain™, a cinematic psychological thriller, where every decision you take can have dramatic consequences.

With the police no closer to catching the Origami Killer, the city waits, dreading the moment news of his latest victim is announced. As the tension mounts and the clock ticks down towards another death, four unrelated people find themselves drawn into the search. For each character, a nerve-racking battle of wits with the mysterious killer lies ahead; but how the story unfolds – including who lives and who dies – is entirely up to you.

This exclusive demo tutorial allows you to play through two complete scenes and find out how the investigation begins for two of the lead characters in Heavy Rain™.

Meet the local police force and begin scouring a crime scene for evidence as FBI profiler Norman Jayden; then follow up a lead with private investigator Scott Shelby, as he questions the mother of a previous victim.

Remember, this demo is a taster of the intense, gripping action waiting to challenge your mind and your heart in PlayStation®3 exclusive Heavy Rain™ – your emotions and reactions genuinely affect how the storyline develops. Find out more by visiting www.HeavyRainPS3.com.

Pobieranie tego produktu podlega Warunkom świadczenia usługi/umowie użytkownika Sony Entertainment Network oraz wszelkim innym konkretnym warunkom dodatkowym powiązanym z tym produktem. Jeśli nie akceptujesz tych warunków, nie pobieraj tego produktu Inne ważne informacje można znaleźć w Warunkach świadczenia usługi.

Heavy Rain™ ©2010 Sony Computer Entertainment Europe. Published by Sony Computer Entertainment Europe. Developed by Quantic Dream. Heavy Rain is a trademark of Quantic Dream. All rights reserved.