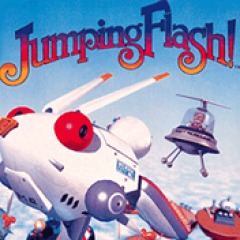 21,00 zl
PlayStation Plus
Gry online dla wielu graczy
Gry co miesiąc
Wyjątkowe zniżki
---
Jumping Flash
Sony Interactive Entertainment Europe
Klasyki PS one®
Wydano 8 Lis, 2007
Opis
Compatible with PlayStation®3, PSP® (PlayStation®Portable), PlayStation®Vita and PlayStation®TV.

When the mad scientist Baron Aloha carves out chunks of a beautiful planet, the Galactic Municipal Council send you, a brave pest control operative, to locate the villain and put an end to his plans. Sat at the controls of a large robotic rabbit, or Robbit, you must bound out across six floating worlds in an effort to locate the bad guy and his minions, and dispatch them once and for all.

One of the original PlayStation® console's launch titles, Jumping Flash will have you leaping and bouncing like never before – let's hope you've a head for heights!

PLEASE NOTE: this information was correct at the time of publication. Some functionality may vary from the original PlayStation® (PS one®) version of this product or may not be available.

Pobieranie tego produktu podlega Warunkom świadczenia usługi w sieci PlayStation Network oraz naszym Warunkom korzystania z oprogramowania, a także wszelkim innym konkretnym warunkom dodatkowym powiązanym z tym produktem. Jeśli nie akceptujesz tych warunków, nie pobieraj tego produktu. Inne ważne informacje można znaleźć w Warunkach świadczenia usługi.
Jednorazowa opłata za korzystanie z plików do pobrania na maksymalnie dwóch aktywnych i kompatybilnych domowych konsolach oraz trzech aktywnych i kompatybilnych konsolach przenośnych.
Przed rozpoczęciem korzystania z tego produktu należy zapoznać się z ważnymi informacjami dotyczącymi zdrowia w sekcji Ostrzeżenia zdrowotne.
Library programs ©Sony Interactive Entertainment Inc. wyłączna licencja podmiotu Sony Interactive Entertainment Europe. Obowiązują Warunki korzystania z oprogramowania. Informacje dotyczące wszystkich praw użytkowania można znaleźć pod adresem eu.playstation.com/legal.

Jumping Flash!™ ©2007 Sony Computer Entertainment Europe. Published by Sony Computer Entertainment Europe. Developed by Sony Computer Entertainment Inc. Jumping Flash! is a trademark or registered trademark of Sony Computer Entertainment Europe. "PLAYSTATION" and "PlayStation" are registered trademarks of Sony Computer Entertainment Inc. is a registered trademark of Sony Corporation. All rights reserved.