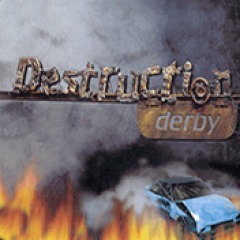 21,00 zl
PlayStation Plus
Gry online dla wielu graczy
Gry co miesiąc
Wyjątkowe zniżki
EA Access
Gry ze zbioru Vault!
Rabaty 10%!
Zagraj w wersje próbne!
---
Destruction Derby™
Sony Interactive Entertainment Europe
Klasyki PS one®
Opis
Compatible with PlayStation®3, PSP® (PlayStation®Portable), PlayStation®Vita and PlayStation®TV.

Have you got the bottle to enter the Bowl? Then line up against a bunch of other crazy drivers and prepare to put the pedal to the metal. In Destruction Derby, your job is to wreck your opponents' vehicles, with just your own car and driving skills to call upon. In these "races", being first to the finish line is only half the battle; the rest is being the last man rolling in something that still resembles a car.

So, swerve through the buckled wheels and busted bonnets and revisit 1995's classic action racer today. Rev the engine and hit the redline: let's get it on!

PLEASE NOTE: this information was correct at the time of publication. Some functionality may vary from the original PlayStation® (PS one®) version of this product or may not be available.

Compatible with PSP™ and PLAYSTATION®3.

Pobieranie tego produktu podlega Warunkom świadczenia usługi w sieci PlayStation Network oraz naszym Warunkom korzystania z oprogramowania, a także wszelkim innym konkretnym warunkom dodatkowym powiązanym z tym produktem. Jeśli nie akceptujesz tych warunków, nie pobieraj tego produktu. Inne ważne informacje można znaleźć w Warunkach świadczenia usługi.
Jednorazowa opłata za korzystanie z plików do pobrania na maksymalnie dwóch aktywnych i kompatybilnych domowych konsolach oraz trzech aktywnych i kompatybilnych konsolach przenośnych.
Przed rozpoczęciem korzystania z tego produktu należy zapoznać się z ważnymi informacjami dotyczącymi zdrowia w sekcji Ostrzeżenia zdrowotne.
Library programs ©Sony Interactive Entertainment Inc. wyłączna licencja podmiotu Sony Interactive Entertainment Europe. Obowiązują Warunki korzystania z oprogramowania. Informacje dotyczące wszystkich praw użytkowania można znaleźć pod adresem eu.playstation.com/legal.

Destruction Derby™ ©1995 - 2007 Psygnosis Ltd. Published by Sony Computer Entertainment Europe. Destruction Derby is a trademark of Sony Computer Entertainment Europe. "PLAYSTATION" and "PlayStation" are registered trademarks of Sony Computer Entertainment Inc. is a registered trademark of Sony Corporation. All rights reserved.