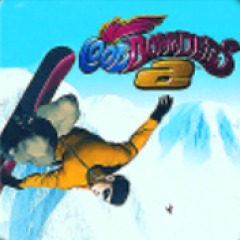 21,00 zl
PlayStation Plus
Gry online dla wielu graczy
Gry co miesiąc
Wyjątkowe zniżki
---
Cool Boarders 2
Sony Interactive Entertainment Europe
Klasyki PS one®
Wydano 30 Paź, 2008
Opis
Compatible with PlayStation®3, PSP® (PlayStation®Portable), PlayStation®Vita and PlayStation®TV.

The second title in the classic Cool Boarders series hits the PLAYSTATION®Network slopes. Soar off jump ramps and half-pipes, perform over 40 new aerial moves, and customise your own board or create a motif from scratch – there are literally thousands of possible designs. Perfect your techniques in a huge, jump-laden board park with all manner of slopes and obstacles; then compete against eight other racers in a full season of thrilling snowboarding.

PLEASE NOTE: this information was correct at the time of publication. Some functionality may vary from the original PlayStation® (PS one®) version of this product or may not be available.

Pobieranie tego produktu podlega Warunkom świadczenia usługi w sieci PlayStation Network oraz naszym Warunkom korzystania z oprogramowania, a także wszelkim innym konkretnym warunkom dodatkowym powiązanym z tym produktem. Jeśli nie akceptujesz tych warunków, nie pobieraj tego produktu. Inne ważne informacje można znaleźć w Warunkach świadczenia usługi.
Jednorazowa opłata za korzystanie z plików do pobrania na maksymalnie dwóch aktywnych i kompatybilnych domowych konsolach oraz trzech aktywnych i kompatybilnych konsolach przenośnych.
Przed rozpoczęciem korzystania z tego produktu należy zapoznać się z ważnymi informacjami dotyczącymi zdrowia w sekcji Ostrzeżenia zdrowotne.
Library programs ©Sony Interactive Entertainment Inc. wyłączna licencja podmiotu Sony Interactive Entertainment Europe. Obowiązują Warunki korzystania z oprogramowania. Informacje dotyczące wszystkich praw użytkowania można znaleźć pod adresem eu.playstation.com/legal.

Cool Boarders™ 2 ©1997-2007 Sony Computer Entertainment America Inc. Published by Sony Computer Entertainment Europe. Cool Boarders is a trademark of Sony Computer Entertainment Europe. All rights reserved.