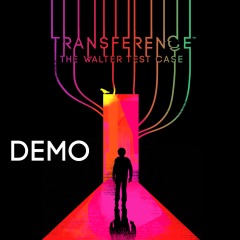 Gratis
PlayStation Plus
Multijugador online
Juegos mensuales
Descuentos exclusivos
c.kaonashi.tooltip.header{}
c.kaonashi.free{}
c.kaonashi.discounts{}
c.kaonashi.pft{}
---
Transference™: The Walter Test Case [DEMO]
UBISOFT ENTERTAINMENT SA
Demo
Lanzado 20 Ago 2018
Descripción
Demo jugable con RV y sin RV.

Esta precuela tiene lugar varios años antes de los sucesos de Transference. Conoce el experimento que sentó las bases de los hechos acaecidos después.

Explora la mente de un problemático sujeto de pruebas que sufre TEPT.

Resuelve intrincados rompecabezas mientras recompones sus dañados recuerdos.

Ve cambiando entre las diferentes perspectivas para tratar de reconstruir su historia.

1 jugador
Función de vibración DUALSHOCK®4
Salida de vídeo HD 720p,1080i,1080p

La descarga de este producto está sujeta a la aceptación de los Términos de servicio de PlayStation Network y de nuestros Términos de uso del Software, así como de cualquier condición adicional que se aplique a este producto. Si no desea aceptar estos términos, no descargue este producto. Consulte los Términos de servicio para obtener información adicional importante.
Programas de biblioteca ©Sony Interactive Entertainment Inc. propiedad exclusiva de Sony Interactive Entertainment Europe. Son aplicables los Términos de uso del Software. Consulta eu.playstation.com/legal para ver todos los derechos de uso.

© 2018 Ubisoft Entertainment. All Rights Reserved. Transference, the Transference logo, Ubisoft, and the Ubisoft logo are trademarks of Ubisoft Entertainment in the US and/or other countries.