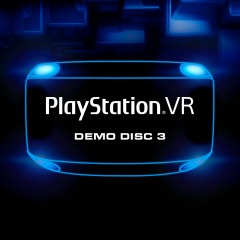 Gratis
PlayStation Plus
Multijugador online
Juegos mensuales
Descuentos exclusivos
c.kaonashi.tooltip.header{}
c.kaonashi.free{}
c.kaonashi.discounts{}
c.kaonashi.pft{}
---
PlayStation®VR Demo Collection 3
Sony Interactive Entertainment Europe
Juego de PSN
Lanzado 16 Ene 2019
Descripción
Vive espectaculares experiencias de realidad virtual con esta colección de demos jugables inmersivas para PlayStation®VR.

Descárgala y pruébala:
Astro Bot Rescue Mission™
SUPERHOT VR
Headmaster
Resident Evil 7 Biohazard Teaser Demo: The Kitchen
Job Simulator*
Moss™
The Persistence
Thumper
Battlezone®

Requiere *PlayStation®Move

IMPORTANTE:
Se requiere PlayStation®VR y una PlayStation®Camera para jugar a estas demos.

Salida de vídeo HD 720p,1080i,1080p
Mando de movimiento PlayStation®Move y PlayStation®Camera opcionales.
Se necesita PlayStation®VR y PlayStation®Camera para jugar a este producto.

La descarga de este producto está sujeta a la aceptación de los Términos de servicio de PlayStation Network y de nuestros Términos de uso del Software, así como de cualquier condición adicional que se aplique a este producto. Si no desea aceptar estos términos, no descargue este producto. Consulte los Términos de servicio para obtener información adicional importante.
Programas de biblioteca ©Sony Interactive Entertainment Inc. propiedad exclusiva de Sony Interactive Entertainment Europe. Son aplicables los Términos de uso del Software. Consulta eu.playstation.com/legal para ver todos los derechos de uso.